Chinese Store
Feng Shui Products, Feng Shui Tips, Wholesale Gifts at Chinese Store
Feng Shui Import wholesale and retail feng shui items in San Diego. Feng Shui Import offers free feng shui tips too. Our feng shui supplies' categories include Buddha statues, water fountains, Chinese dragon, Chinese coins, crystal balls, wind chimes, Bagua mirrors, jade pendants, hand fans, money frogs, lipstick holders, coin purses, elephant statues, Chinese wall scrolls, Chinese art crafts, oriental music gifts, fu dogs, chi lin, kuan yin statues, kuan Kong figures, crystal bracelets, jade bracelets, jade necklaces, feng Shui Tortoises, feng shui fishes, feng shui bagua mirrors, feng shui books, oriental dolls, pagodas, red scrolls, pi yao, pig statues, rat figurines, mandarin ducks, Embroidery hand bags, teapots, tea sets, incenses, good luck charms, mobile phone charms, etc.
Arowana Fishes, Carp Fishes or Golden Fishes

Significant of Feng Shui Fishes: Feng shui fishes usually mean Arowana Fishes, Carp Fishes or Golden Fishes. Since fish has ability of fertility, people use fish to represent wealth and prosperity. In addition, the character of swing upstream symbolizes great achievements in pursuit high rank.

How to Display Feng Shui Fishes: Display it in the Sheng Qi position for wealth. Or place it outside near the main door to attract more chi. Or Place it near the water fountain to enhance wealth.
Ba Gua Mirrors

Significant of Ba Gua: Bagua mirrors are used as protection items in feng shui. They are one of the powerful feng shui items. There are convex bagua mirrors, concave bagua mirrors and flat mirrors. Convex bagua which are the mirrors out can strongly send bad energy back to its origal; Concave bagua, which are the mirrors in, absorb the chi to stop there; Flat mirrors which are almost same as convex can reflect the chi back.

How to Display Ba Gua Mirrors : People usually hang one bagua mirror above the main door or back door.
Chi Lin

Significant of Chi Lin: Chi lin are also called Kei Loons or Dragon Horses. They are referred as creatures which have dragon head and horse body. They are usually have one pair: male and female. They stand for prosperity, success, longevity and illustrious offspring. They are also can used to ward off bad energy.

How to Display Chi Lin: Display them at Sheng Qi position to enhance wealth and caeer luck; Display them at Tian Yi position for improving love luck and relationship.
Dragon Pheonix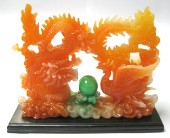 Significant of Dragon Pheonix: Dragon Pheonix is one pair of auspicious animals - dragon and phoenix. Dragon represents male and phoenix stands for female. They are usually chasing together with pearl ball to signify love and good luck.

How to Display Dragon Pheonix: Display dragon phoenix at love position of the bedroom.
Dragon Tortoise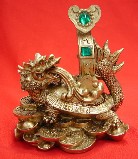 Significant of Dragon Tortoise: Dragon Tortoise is also called Dragon Turlte which has dragon head and turtle body. Dragon symbolizes success, good luck and courage. Tortoise symbolizes longevity. Since Dragon Tortoise is the combination of dragon and turtle (Dragon and turtle are two of the four celestial animals of Chinese mythology), It also is beneficial to improve the relationship fortune and gain benefactors in work.

How to Place Dragon Turtle: Place dragon turtle at Tian Yi position for good health; placing it behind you can give you good support; Place it at your Sheng Qi position for success.
Fu Dogs

Significant of Fu Dogs: Fu Dogs are also called Foo Dogs which are believed as the civilian door gods. They are placed in a pair (male or female) to provide ultimate protection, guard against evil spirits and harmful people, nourishes chi that enters houses. Their protective powers are deemed symbolic rather than actual and they are said to keep the bad chi away. The one playing with a ball under his foot is male and the another one with a little baby Fu Dog under her foot is female.

How to Display Fu Dogs: The male foo dog statue is on the left side and The female foo dog is on the right side when you look at outside from inside of your house. Fu Dogs are displaced (facing outside) at either sides of the main door, hall way, main gate, stairs or escalator. They can be placed on floor level or raised to higher level.
Fu Lu Shou

Significant of Fu Lu Shou: Fu Lu Shou are three stars - Fu Star, Lu Star and Shou Star refered to the concept of Good Fortune, Prosperity, and Longevity. Fu Star is usually holding one baby or Jia Pu (Jia Pu is a record of a clan's history and lineage) to symbolize good fortune and harmony for the family. Lu Star sitting in the middle and carrying ru yi stands for power and prosperity. He is the god of high rank and affluence. Sau Star with a domed head, who carries a peach and walking stick, is the god of longevity.

How to Display Fu Lu Shou: Fu Lu Shou should be placed side by side in one row. Usually Lu Star is in the center, Fu Star is on your left side and Shou is on your right side when you look at them. They can be displayed on the table in your living room or dining area facing inside (not directly facing the main door if facing outside). In addition, don't display them under the beam or next to the toilet or facing to toilet.
Money Frog

Significant of Money Frog: Money frogs are also called money toad, or three-legged toads or feng shui toads. Money frog has two legs on front and one leg only in the back. It is different from the real frog which has 4 legs. Usually there is one Chinese coin in its mouth signifying to bring money. Money frogs are the symbol of wealth.

How to Place Money Frog: There are different ways to place money frogs: Some recomend to place them at the corner of the house (better in the diagonal corner) facing the main door (not directly facing the main door). Some recomend to let the money frogs facing the main door at the daytime and turn it back facing inside at the night time. Some are according to whether there is coin in its mouth or not. If not coin in its mouth, let the money frog facing outside and let is facing inside if there is one coin in its mouth.
Pi Yao
Significant of Pi Yao: Pi Yao is also called Pi Xiu which has one horn, lion face, hoofs, little wings and a tail. Pi Yao don't have an anus and only eat but not feces. The significant of Pi Yao is for prosperity and blessings due to its infinite appetite. In addition, pi yao is the excellent protector preventing bad flying stars from hurting you.

How to Display Pi Yao: Some recomends to hide pi yao (Don't let people see your Pi Yao) at corner. Or You can place it near the main door or window. Or carry it with you for extra income.
Wind Chime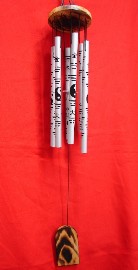 Significant of Wind Chime: The most purposes of Wind Chime are used to block or decrease bad chi, killing chi or some affects of flying stars, such as Three Killings and Five Yellows.

How to Hang Wind Chime: It is safe to hang wind chime outside the house either front yard or back yard. Or you can hang near to the main door or hall way. Or hang them at the position of the locations of flying stars Three Killings and Five Yellows locate.
Wu Lou
Significant of Wu Lou: Wu lou has the shape of small mouth and big bottom. Once chi is absorbed inside, it is difficult to get out of the wu lou. The significant of wu lou is that it can absorb illness chi in order to get good health. Further, wu lou is considered to hold treasure. It is one of the eight treasures.

How to Place Wu Lou: Hang or place wu lou near to you or near to your bed. Also you can display it on the table or desk in your living room to benifit for the whole house.
Feng Shui Guide
Articles & Tools
330 Rancheros Dr, Suite #132, San Marcos, CA 92069, US